OK, it looks like I may have spoken too soon.
Everything was working fine, but then I needed to reboot my PC. I left the external drive connected during the reboot, but when I got back to my desktop after the restart, instead of the device being detected by SafelyRemove it showed as disconnected.
I tried to reactivate the device using SafelyRemove, but nothing happened. I just got a blank dialog window.

I then physically disconnected and reconnected the eSATA device and it was detected again, but when I tried to shut it down from SafelyRemove I got the following error dialog: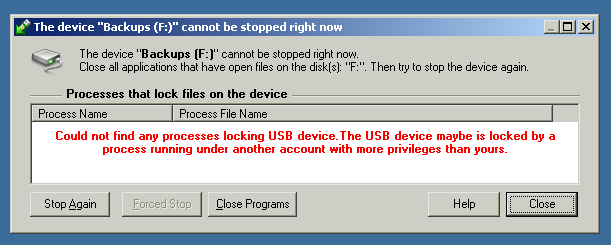 I then closed SafelyRemove (because I wanted to try to run it again to see if this would fix the problem) but SafelyRemove would not start because there was a 'dead' copy still loaded in memory (even though there was no tray icon). So I killed the existing SafelyRemove process using task manager and then I could start SafelyRemove again. However, the dialog about locked USB processes appeared and so I was still unable to disconnect my eSATA device.
As an aside to the above problem, I think it might be a good idea to be a bit more general in the wording of error message descriptions, because it doesn't make much sense to keep having "USB" devices and processes mentioned when the device is not actually anything to do with USB at all. It's inaccurate and somewhat confusing.
I'm going to try another reboot without the device connected and see if this makes any difference.